Welcome to the page where Marty Writes!!

Among other things, this page features General Hospital Fan Fiction. I've watched this soap since the mid-eighties, almost non-stop. A few years ago, I began writing fan fiction--something known to those who read it as--well, basically alternative stories that feature, in my case, my favorite characters in tales which are markedly different from those presented by ABC. Face it--some of us can't get enough of the show, of certain characters, and find ourselves wondering .....what if?...

These are the stories that I've seen in my mind's eye, the dialogue words that I've heard as I envisioned each character, imagined what he or she might say under a variety of circumstances. Inside, you'll find comedy and drama, parody and passion. These are characters that I've enjoyed for years. I hope that they ring true to you for your particular favorite characters. Let me know your opinion. Feel free to post your reactions in my blog.
NOTE TO ABC: These tales are for entertainment, and I derive no financial gain from them, nor would I seek to do so. I did not create any of the characters that are owned by ABC, and make no claim to have done so. I'm simply borrowing them for a little while, and hope that these tales will be considered a tribute to a show that I've watched for a long time. Should you wish for me to pull them from this site, simply e-mail Marty and it shall be done.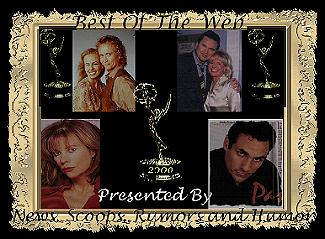 The "Best of the Net" award first appeared at the previous site, and was moved with permission of The Mining Company.Com



Previously, over 55,000 had visited the former sites where these stories were featured.